Apple's 'Nanjing East' Retail Store to Open in Shanghai This Friday
As if a grand opening for Apple's first Hong Kong store this Saturday wasn't enough, the company has also announced that it will be opening its massive new Nanjing East store in Shanghai on Friday.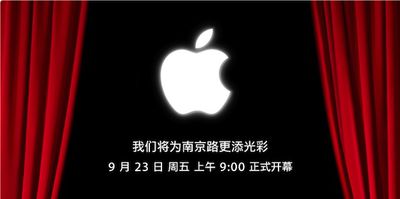 We noted last week that Apple had added its "curtain opening" promotional signage to the barrier surrounding store, suggesting that a launch was imminent.


First revealed back in February, the store will be Apple's third in Shanghai and fifth overall in China, and will be the largest Apple retail store in the country. The Nanjing East store will span five levels: a ground floor dedicated to sales, a second floor dedicated to support and training, and three additional floors devoted to business customers and office space for Apple's Chinese operations.
Shanghai is already home to one iconic Apple store, the Pudong store with its cylindrical glass entrance leading to a below-ground store underneath a central plaza at the city's International Finance Center. Apple has cited the entry's glass panels as the largest such curved glass panels in the world and the result of key technological advancements that the company is using in other projects such as the revamp of its Fifth Avenue cube in Manhattan and its planned second corporate campus in Cupertino, California.
(Thanks Tock!)