Apple is making a strong push to open more retail stores as it heads into the final weekend of its fiscal year and makes preparations for the launch of the iPhone 5. In addition to the high-profile openings scheduled for Hong Kong and Shanghai that were disclosed earlier this week, Apple is opening five other new retail stores this weekend.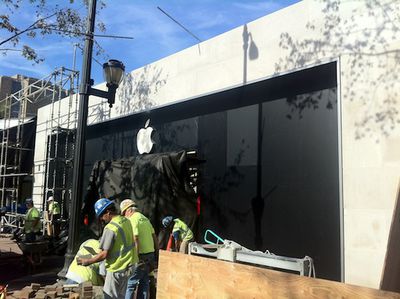 Apple's New Haven, Connecticut retail store (Thanks, Grimace)
-
New Haven
(New Haven, Connecticut):
Revealed
earlier this year, the store is an interesting partnership between and Apple and a major university, as the building where the store is located is owned by Yale University and houses Yale's bookstore. The space taken by Apple had formerly been occupied by Barnes & Noble. The new store is Apple's fifth in Connecticut.
- Hornsby (Sydney, Australia area): Located to the northwest of Sydney itself, the new Hornsby store will be the sixth in the Sydney area and the 13th in Australia. The store is located within Westfield Hornsby, a major shopping center with over 300 retailers.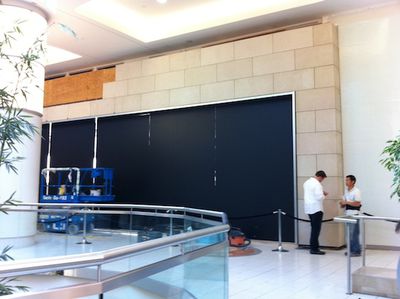 Final facade work at Metrotown store in Burnaby, Canada (Thanks, Glenn)
-
Metrotown
(Vancouver, Canada area): The new Metrotown store in Burnaby, to the east of Vancouver, is Apple's fourth in the Vancouver area and 22nd in Canada. The store is part of the Metropolis at Metropolitan, a 450-store shopping center that ranks as the second largest in Canada.
- Parly 2 (Paris, France): Located in Le Chesnay, a western suburb of Paris just to the north of Versailles, the new Parly 2 store is Apple's fifth in the Paris area and ninth in France.
- Centro Sicilia (Catania, Italy): Apple's first store on the island of Sicily, the new store is located in Catania, Sicily's second-largest city. The store is Apple's ninth in Italy.