Case-Mate Preps for Release of iPhone 5 Cases with Revamped Design
We've published a number of articles about iPhone 5 cases suggesting that the device will be significantly wider but thinner than the iPhone 4, but most of those cases have been sourced from relatively low-profile Asian suppliers so far. As noted by BGR, larger U.S. companies such as Case-Mate are now getting into the picture with their own cases based on the same rumored design.
Case-Mate earlier today posted a number of different iPhone 5 case designs, only to quickly pull the page as it began to receive publicity. The cases seem to show the same rounded and tapered profile of other iPhone 5 cases, along with the mute switch being move from the left side of the device to the right side.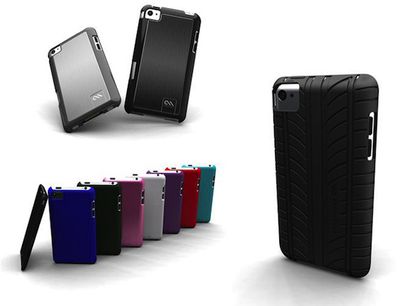 Concrete evidence for a redesigned iPhone 5 has been surprisingly scant, with case designs being essentially the only sign of such a revamp. Meanwhile, a number of parts have been surfacing for Apple's "N94" iPhone that is based on the iPhone 4 design and has been informally referred to as the iPhone 4S. Consequently, doubts have been raised about whether the redesigned form factor will actually be making an appearance, with supply chain checks reporting no sign of the device and only the iPhone 4S entering production.
It is difficult to point to Case-Mate's posting as further proof of an imminent redesigned iPhone 5, as the cases are likely based on the same leaked design document used by Asian manufacturers, a document whose authenticity has been called into question given the lack of supporting evidence for such a device. But it is interesting to note that even relatively major U.S.-based case manufacturers are investing in designs for cases based on this form factor.