Two New iPhone Models, iPhone 5 Design Seeing Production Delays?
9to5Mac claims that there are indeed two new iPhone models: the "low-end" iPhone 4-look alike that we've seen parts for already, and the teardrop shaped iPhone 5 (artist rendition below).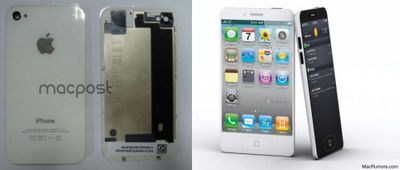 N94 (left), and iPhone 5 artist rendition (right)
But they also claim that this new iPhone 5 design is seeing design and production delays so there may be shortages into 2012:
It appears that the tear-drop shaped iPhone 5 with larger screen and thinner, rounder body is seeing continued design and production delays, at least on one assembly line (Apple has multiple production sources – Pegatron, Foxconn, etc). We therefore think that iPhone 5 will be delayed slightly at the very least and may see shortages all the way into 2012.
Apple is expected to hold a media event announcing the iPhone 5 later this month, but has been known to pre-announce products that won't be available for some period of time. Most recently, Apple's Thunderbolt Display was announced to be delivered "within 60 days". With the iPhone, Apple will certainly try to minimize that delay in order to avoid suppressing sales during the holiday quarter. To be clear, the iPhone 5 announcement may still be "weeks away", but availability and stock of the iPhone 5 may be limited to start, if this rumor is to be believed.
Apple's annual iPhone announcement is already much later in the year than usual. In the past 4 years, Apple has launched a new iPhone in the summer, while this year's launch has still not been officially confirmed.
Meanwhile, MacRumors has also heard through a supplier that the case manufacturers are very confident that the leaked case designs are representative of the iPhone 5. There's been some speculation about how certain the case manufacturers need to be to start mass producing these early case designs. At least according to one of our contacts, they seem very certain.