Apple Thunderbolt Display with Multiple Monitors: No Daisy Chaining Mini DisplayPort Monitors [Updated]
With the new 27" Apple Thunderbolt Display now shipping to customers, Apple has posted a new support document outlining what can and can not be accomplished with multiple monitors on Thunderbolt-enabled Mac systems.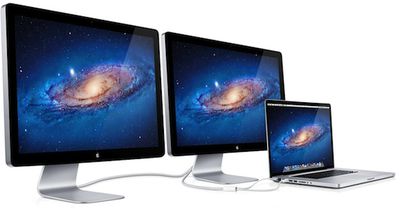 As far as compatibility, Apple notes that all Thunderbolt-enabled systems with the exception of the MacBook Air can handle two Thunderbolt displays, with a caveat for the 13-inch MacBook Pro being that the computer's internal display will not function if two Thunderbolt displays are connected. The high-end $799 Mac mini with discrete AMD graphics is also capable of running a third display via HDMI.
- MacBook Air (Mid 2011): One Thunderbolt display.
- MacBook Pro (Early 2011): Two Thunderbolt displays. Connecting a second Apple Thunderbolt Display (27-inch) to a 13-inch MacBook Pro will make the screen on the MacBook Pro turn black. This is expected behavior.
- iMac (Mid 2011 and Late 2011): Two Thunderbolt displays. iMac (27-inch, Mid 2011) with two Thunderbolt ports supports a total of two Thunderbolt displays regardless of which Thunderbolt port each display is connected to.
- Mac mini (Mid 2011): Two Thunderbolt displays. Mac mini with AMD graphics can support a HDMI compatible device on its HDMI port when using two Thunderbolt displays.
One other note of interest that will be a disappointment for some users is the disclosure that users will not be able to daisy chain a Mini DisplayPort display off an Apple Thunderbolt Display.
Mini DisplayPort displays will not light up if connected to the Thunderbolt port on an Apple Thunderbolt Display (27-inch).
The revelation is a bit of a surprise, as Mini DisplayPort displays can currently be daisy chained off other Thunderbolt peripherals. Some users had been hoping to reuse their existing Mini DisplayPort displays as part of multiple-monitor setups using the new Thunderbolt display, but will apparently be unable to do so.
Finally, Apple recommends that users daisy chaining the Apple Thunderbolt Display with Thunderbolt storage devices connect the display directly to the computer's Thunderbolt port, with other peripherals daisy chaining off of the display.
Update: Macworld appears to have demonstrated that you can indeed daisy chain a Mini DisplayPort monitor as long as it is connected to some other device than the Thunderbolt display. In Macworld's apparent setup, a Pegasus RAID storage device is placed between the Thunderbolt display and an older Mini DisplayPort display from Apple and all displays work properly.
It is unclear why simply inserting another Thunderbolt device into the middle of the chain allows the Mini DisplayPort display to function, but at least one MacRumors forum member has confirmed that he is unable to daisy chain his Mini DisplayPort-enabled Apple Cinema Display directly off of the new Thunderbolt display.