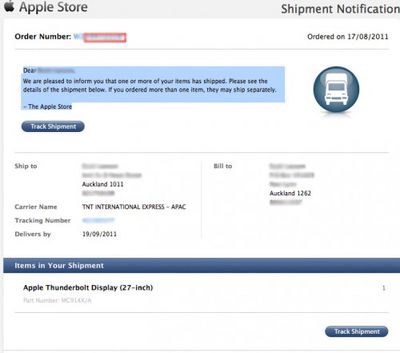 We've received multiple contacts that individuals have started receiving ship notices for their Thunderbolt Displays this morning. Scott from New Zealand offers up the above ship notice and expects delivery by tomorrow morning.
Forum readers have been organizing in this forum thread while waiting for deliveries. We'd previously reported that Apple had begun shipping demo units to stores last week. Apple has also been releasing various software updates to prepare for the display.
Apple yesterday pushed out a 60.30 MB Thunderbolt Software Update to provide support for the display.
This update provides support for the Apple Thunderbolt Display and bug fixes for Thunderbolt device compatibility.
This company this week has also been pushing out firmware updates for its latest Mac models, addressing compatibility with the new display as well as issues with Thunderbolt Target Disk Mode and Lion Recovery over the Internet.