iPad 3 to Carry Thinner and Lighter Battery?
Taiwan Economic News reports (via BGR) that Apple has contracted with suppliers Simplo and Dynapack for a thinner and lighter battery for the iPad 3, either opening the door for a thinner design or making room for a potentially thicker high-resolution Retina display.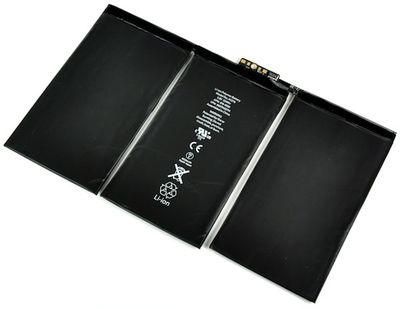 iPad 2 battery (Source: iFixit)
According to the report, the new batteries will cost Apple 20-30% more than the current iPad batteries and are said to offer a greater service life and increased safety.
With the upcoming iPad 3 to feature a thinner, lighter battery module that is widely believed to be priced 20-30% higher than iPad 2's, Simplo Technology Co. and Dynapack International Technology Corp., both Apple Inc.'s contract suppliers of iPad and Macbook battery packs, will hence secure a surefire profit drive for the near future.

Institutional investors pointed out that the battery pack for iPad 3, scheduled to be massively produced in the first quarter of next year, has been redesigned to be thinner and lighter with a longer service life than iPad 2 edition's.
Initial deliveries of the new batteries are said to be set for the fourth quarter of this year, with mass production beginning in the first quarter of next year.
A number of rumors had suggested that Apple might be trying to release the iPad 3 before the end of this year, but recent reports have claimed that Apple and its partners are continuing to refine the Retina display rumored for inclusion in the device, pushing the iPad 3's launch to early next year.