'iPhone 4S' Casing Resembles iPhone 4 with Some Antenna Changes
Apple has been rumored to be building a new, cheaper iPhone 4 ("iPhone 4S") alongside the iPhone 5, for an October launch. This iPhone 4S is believed to use different components and less storage to lower manufacturing costs. It appears Apple may have also taken this opportunity to make changes to the antenna design as well.
New "iPhone 4S" part images we've received from iPatchiPods suggest that the iPhone 4S will look much like the iPhone 4, but with some notable differences in the frame.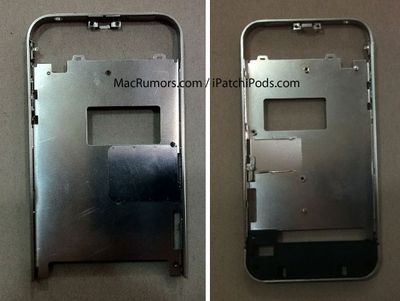 The mid-frame images above show that this so-called iPhone 4S will have two antenna breaks at the bottom of the casing. This differs from both the AT&T (GSM) iPhone 4 and Verizon (CDMA) iPhone 4. In AT&T's iPhone, the antenna breaks are in two spots, along the lower left side and top left sides. On the Verizon's model they are both at the top sides of the casing.
The reason for the movement of the antenna breaks is to accommodate different frequencies of the different mobile technologies. This "iPhone 4S" appears to have a slot for a SIM card, suggesting that at a minimum it will support the GSM standard like the original AT&T iPhone 4. It is believed the iPhone 5 will support both GSM and CDMA, but we haven't heard anything definitive about the band support for this iPhone 4S.
Also, of note, the mute switch and volume switches are on the same side of this casing, just like the iPhone 4.


The bottom portion of the frame is shown here. As noted by iFixIt's Scott Head, what's most interesting about this part as compared to the iPhone 4 part, is the lack of any defined "Home Button" area. The corresponding iPhone 4 part shows a cut-out area for the Home Button. It's hard to draw an conclusions from this, but there has been a lot of speculation that Apple could be changing the Home Button area on the iPhone 5.
There still may be some confusion in the parts supply chain about what pieces are intended for what devices, but iPatchiPods' source does believe that these mid-frames are intended for the cheaper revision of the iPhone 4.