Apple Exploring Enhancing Maps with Augmented Reality
One area that Apple has been heavily investing in over the past few years has been in mapping technology and resources. We'd heard a few years ago that Apple was actively recruiting mapping specialists, and the public signs have been considerable since then.
In 2009 and 2010, Apple acquired two mapping companies Placebase and Poly 9. Apple has also been actively recruiting for their "Geo Team" to take their Maps app "to the next level". We've even found evidence that iOS 5 might already have some of the underpinnings to Apple's own mapping solution.
Last week, we saw the first patent application filed by Placebase founder's Jaron Waldman after he began work at Apple. This week, we have found another that's even more interesting.
Jaron Waldman is credited as the inventor for this Apple-assigned patent application which details the use of augmented reality in assisting with directions and finding points of interest.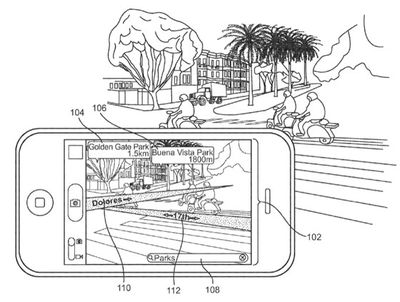 This concept isn't new, of course, and we've seen a number of Augmented Reality applications appear in the App Store. The basic concept revolves around taking live video using your iPhone and then overlaying relevant information, such as points of interest.
Apple's implementation focuses on searching for a landmark and then getting directions. Here's an example of an existing iPhone app the tries to do similar:

Screenshot from existing
Augmented Reality
app
Early Augmented Reality applications have been somewhat clumsy, but seem to show a lot of promise.
Apple files many patent applications each week which means that most never make it into products. Apple's mapping interest, however, has been particularly well known, and we feel there may be a lot coming from Apple in this realm in the near future.