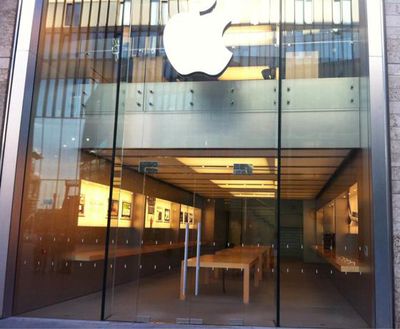 The Apple Store Liverpool ONE has emptied its front-of-house of all products ahead of possible rioting in Liverpool, UK as the country faces its fourth night of unrest.
Update: We have unconfirmed reports that Apple Store Meadowhall in Sheffield and Apple Store Cabot Circus in Bristol have been cleared of stock as well.
Update: Rioters have attempted to break into the Arndale shopping center in Manchester city centre, home of the Apple Store Arndale.
Update: BBC News interviewed a shaken-sounding Glen Barkworth, general manager of the Arndale Centre in Manchester who confirmed that rioters have breached the facility.
The BBC also interviewed Tim Whalley, general manager of the Bullring Shopping Centre in Birmingham, home to Apple Store Bullring. He said that two entrances at the facility had been smashed, but no looters were in the centre. He said Bullring had hired four dog handlers with four large dogs and that had helped keep rioters at bay.
The Regent Street store closed early, but left product on display.
Last night, Metropolitan Police were out in force in Oxford Circus and Regent Street, including parked in front of the flagship Apple Store there. The vans weren't specifically protecting the Apple Store, but it is a significant business and commercial area.
English cities are tonight facing rioting and looting for the fourth night in a row. The BBC has extensive coverage of the events.
Any UK readers with pictures, video, or other information, please get in touch via Twitter, email, or the comments on this post.
Thanks to @anfieldtoffee for the photo. @Syntax_86 has another picture of the store.