London Police Vans Parked Outside Apple Store Regent Street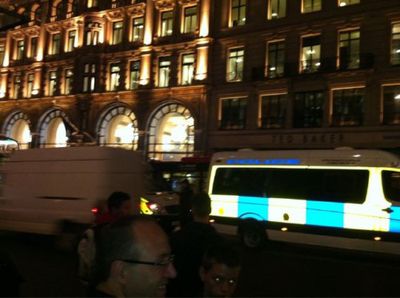 Metropolitan Police have multiple police vans parked in Oxford Circus, including three parked directly in front of the Apple Store flagship on Regent Street. The picture above was posted to Twitter by @Joe, a venture capitalist with m8 Capital in London.
Update: Reports on Twitter that the Bullring shopping center in Birmingham has been breached. There is an Apple Store in the Bullring complex, but there are no confirmed reports that the store has been broken into. The Bullring closed early on Monday evening due to the situation in Birmingham.
Update: The Bullring shopping center closed early again on Tuesday, shutting stores at 5PM. There are no indications of vandalism to the Apple Store in the complex, though there were significant disturbances in the area around Bullring last night.
Update: The Apple Store Liverpool ONE was emptied of all product Tuesday evening ahead of possible unrest in Liverpool.
Londoners are facing rioting and looting for the third night in a row. The BBC has extensive coverage of the events.
Any UK readers with pictures, video, or other information, please get in touch via Twitter, email, or the comments on this post.