Teardown Confirms Apple Still Using Modular Solid-State Drive on New MacBook Air
Teardown and repair firm iFixit is well underway on a teardown of the new 13-inch MacBook Air, and while most of the computer's internals are nearly identical to that of its predecessor, a few items of note have been discovered.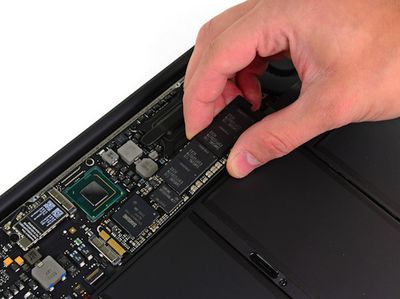 - Apple is continuing to use a modular design for the MacBook Air's solid-state storage, meaning that it can be replaced or upgraded if necessary, although it is not officially supported as a user-replaceable component by Apple. A report in the weeks leading up to the machine's debut had claimed that Apple might be shifting to new Toggle DDR 2.0 flash memory, which would be soldered directly onto the motherboard. This is not the case, however, with Apple continuing to use a separate, pluggable board for the solid-state drive.
- A review of the new MacBook Air's wireless card shows two chips from Broadcom: a BCM4322 Wi-Fi chip and a BCM20702 Bluetooth 4.0 chip. As we briefly touched on in our "notes of interest" article yesterday, Bluetooth 4.0 is supported on both the new MacBook Air and Mac mini and offers lower power, decreased latency, and greater security.
- The teardown of course also reveals the new keyboard backlight cable for evenly illuminating the computer's keyboard in dark conditions. The system includes several fiber optic channels to ensure that the illumination is distributed evenly.
iFixit will be looking further into other changes such as the Thunderbolt connectivity to learn what else is behind the updated machine's capabilities.
We'll update this post with any additional information of note as the teardown continues.