Next MacBook Air to Adopt Faster, More Power Efficient SSD?
Mac Otakara claims that Apple will be adopting a new Toggle DDR 2.0 type of NAND Flash Memory for the basis of the new MacBook Air's SSD drive. The Japanese website cites an "Asian electronics component person" as the source of the information. (via AppleInsider)
Current SSD device Blade X-gale supporting SATA 2.6 will be abolished and new 19nm flash memory will be packaged into smaller chip and will be soldered on base circuit directly.
The move would be a rapid departure by Apple from the current SSD stick format that was just introduced in last year's MacBook Air. Instead of a replaceable part, the new Flash chips would be soldered directly onto the MacBook Air's motherboard.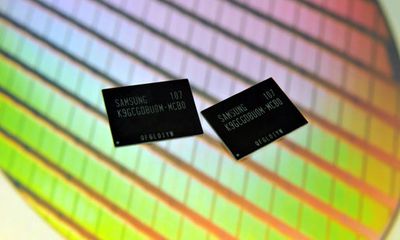 The new format supports speeds of 400Mb/s and in conjunction with a new ONFI 3.0 standard will allow future controllers to run faster or similar performance to today's SSDs with "half the number of channels, providing both a cost and space savings".
Samsung also touted another major feature of this new technology last year, claiming that a low-power mode could extend a notebook's battery life for an hour or more.
The resulting power throttling capability enables the drive's high-performance levels without any increase in power consumption over a 40nm-class 16Gb NAND-based 256GB SSD. The controller also analyzes frequency of use and preferences of the user to automatically activate a low-power mode that can extend a notebook's battery life for an hour or more.
Given the market positioning of the MacBook Air, the potential battery improvements and cost savings may be driving Apple's adoption of this technology more than the performance advantages.