Notes of Interest on OS X Lion, MacBook Air, Mac Mini, and Display Announcements
With a flurry of new hardware releases appearing alongside OS X Lion today, here are a few notes of interest that we wanted to make sure our readers noticed:
OS X Lion
- While Apple initially touted OS X Lion as being a Mac App Store exclusive, the company announced today that the new operating system will also be made available on a USB thumb drive beginning next month. The thumb drive option will be priced at $69, compared to $29.99 for Mac App Store distribution.
- Beginning with the MacBook Air and Mac mini released today, new Apple hardware will support Internet Recovery, allowing users to install OS X Lion onto blank hard drives in the event of hard drive replacement due to failure or upgrades.
Mac mini
- The updated Mac mini omits an optical drive, joining the MacBook Air in Apple's efforts to slim down its hardware and push digital software distribution. Users requiring optical disc capabilities for their new Mac minis can either use Remote Disc capabilities to wirelessly use the optical drive of another computer or purchase an external SuperDrive.
- The new Mac mini offers discrete graphics on the high-end model, utilizing the AMD Radeon HD 6630M and offering up to twice the graphics performance of the previous generation. The low-end and server Mac mini models utilize integrated graphics in the form of Intel HD Graphics 3000.
- Pricing for the Mac mini returns to $599 for the low-end model after having been bumped up to $699 with the redesign on the previous generation.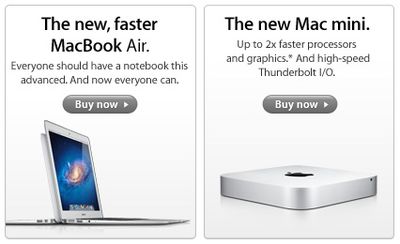 MacBook Air
- As had been rumored, the updated MacBook Air sees the return of the backlit keyboard. The feature had been present in the original MacBook Air, but was not included in the initial redesigned form factor released last October.
- Both the new Mac mini and MacBook Air support Bluetooth 4.0, a new specification that offers ultra low-power data transfer and has been touted as opening the door to a host of new wireless peripheral devices.
Apple Thunderbolt Display
- Apple's forthcoming Thunderbolt display, shipping within the next 60 days, is being positioned as an "ultimate docking station". The display uses a single Thunderbolt connection to support FaceTime camera, audio, USB, Firewire 800 and Ethernet through the display.
MacBook
- Apple's white polycarbonate MacBook has been discontinued for general purchase and is now only available to educational institutions.