Apple Set to Release Q3 2011 Financial Results on July 19th
Apple today issued a media alert announcing details for next Tuesday's release of its financial results for the third fiscal quarter and second calendar quarter of 2011. As usual, the results will be released after the close of Tuesday's trading at approximately 4:30 PM Eastern / 1:30 PM Pacific. Apple's conference call discussing the results will follow at 2:00 PM Pacific and will be available via a live audio webcast. MacRumors will provide running coverage of the conference call highlights.
Apple's conference call webcast discussing Q3 - 2011 financial results will begin at 2:00pm PT/5:00pm ET on Tuesday, July 19, 2011.

Please note that comments made during this call may include forward-looking statements that are subject to risks and uncertainties, and that actual results may differ materially from these forward-looking statements. For more information on the factors that could influence results, please refer to Apple's SEC filings.
Apple's third fiscal quarter of 2011 saw the introduction of new Thunderbolt-equipped iMacs in early May, and also marked the first full quarter of availability for the iPad 2. Apple also quietly introduced new Time Capsule and AirPort Extreme base stations near the close of the quarter. Most of the rest of the company's Mac product lines have been awaiting the release of OS X Lion before seeing updates, while the iPhone did not see its traditional June introduction within the quarter.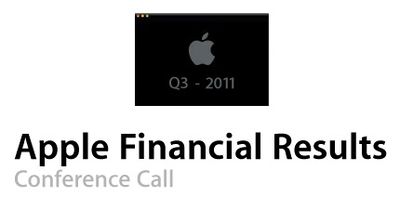 For the quarter, analysts are predicting net earnings of $5.73 per share on revenue of $24.75 billion, above Apple's guidance of $5.03 profit per share on $23 billion of revenue. Apple's year-ago results for the third fiscal quarter of 2010 included net earnings of $3.51 per share on revenue of $15.7 billion.