Backlit Keyboard to Return in New MacBook Air?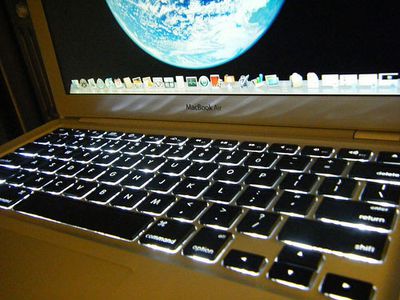 Photo of original MacBook Air by
kimb0lene
The backlit keyboard will reportedly be making a return to the MacBook Air with the new 2011 models that are quickly approaching release. The seemingly minor feature omission for the 2010 MacBook Air has
generated
a good bit of backlash on Apple's own support forums.
AppleInsider claims that the imminent MacBook Air refresh will bring back this popular feature:
According to people familiar with the matter, backlit keyboards will join the string of hardware enhancements planned for the new 11.6- and 13.3-inch notebooks, which are also expected to adopt high-speed Thunderbolt ports, an upgrade to Intel's Sandy Bridge architecture, and possibly high-speed 400MBps flash memory.
The backlight provides illumination to the keyboard in the dark (as pictured above). The feature is also present in all of Apple's current MacBook Pro notebooks.
The MacBook Air is expected to be released soon with part numbers already leaked on Monday. Apple is rumored to have delayed the MacBook Air release until OS X Lion was ready and shipping.