Google Launches 'Music Beta' Cloud Service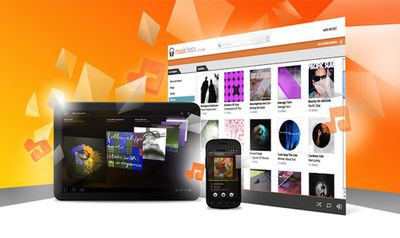 As expected, Google today announced its new
Music Beta
service, offering users the ability to upload their music libraries to Google's servers for cloud-based hosting that allows users to access content from any device. The offering competes against Amazon's
Cloud Drive and Cloud Player
services, as well as Apple's expected MobileMe revamp.
Music Beta is currently available via invitation to U.S. users and will allow users to upload up to 20,000 songs using software for Mac or Windows. The service then offers a web-based interface and initial app support for Android devices. The service is free while in beta, and Google has yet to announce pricing for when the service exits beta.
Like Amazon's cloud-based system, Google has yet to achieve the cooperation of major music labels, forcing the company to rely on a "passive" system in which users are responsible for uploading their own content. Google had been working to reach agreements with record labels to roll out a more robust service, but those talks had stalled with the two sides at an impasse. With Apple reportedly having its own service ready to go and finalizing deals with record labels, Google has apparently shifted gears to more quickly launch the scaled back service without label support.