Apple Slips to Fourth in Worldwide PC Sales With iPad Included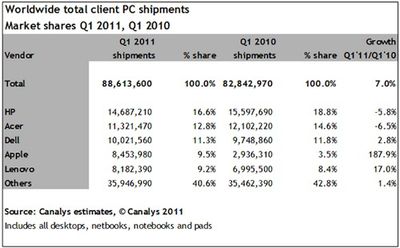 Research firm Canalys today
reported
its data for worldwide first quarter PC shipments, pegging Apple in fourth place with 9.5% of the market when tablets such as the iPad are included in the calculation. Apple slipped one notch from its
third-place finish
in the fourth quarter of 2010 as the company shipped fewer-than-expected iPads to begin the year as it cleared existing inventory of the first-generation models and sought to ramp up production on second-generation models.
With the iPad being added to the mix, Canalys calculates Apple's year-over-year growth for the quarter at nearly 188%, but down 31% from the previous quarter.
Apple continued with its strategy to dominate the pad market, with the iPad or iPad 2 available in 59 markets by the end of Q1. A combination of strong Q4 sales and the announcement of the iPad 2's launch across major markets at the end of March contributed to Apple's iPad shipments being down 31% sequentially. The full impact of the iPad 2 launch will not register until subsequent quarters, as Apple gets the product into the hands of consumers. While pad sales continued to lift Apple's results, PC vendors with a focus on the consumer netbook and notebook market, such as Acer and Asus, did not fare so well.
Canalys reports that a total of 6.4 million "pad" devices were shipped during the quarter, with Apple accounting for 74% of the total.