Apple Ranks Third in Global PC Sales With iPad Included
Research firm Canalys today announced the release of its latest estimates of computer sales for the fourth quarter of 2010, showing Apple jumping to third place in worldwide market share at 10.8% when tablets such as the iPad are counted as computers.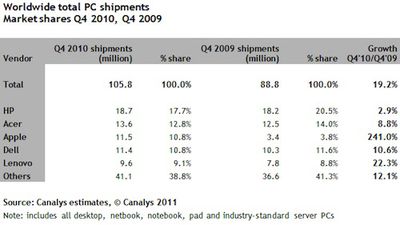 With the iPad surging into the market, Canalys calculates Apple's unit shipment growth at 241% year-over-year to catapult the company from a 3.8% global share to its present 10.8% share that squeaks by Dell for third place behind HP and Acer.
In support of the inclusion of "pad" devices such as the iPad and Samsung's Galaxy Tab in its PC market numbers, Canalys argues that the definition of the PC has constantly been evolving and that tablet devices like the iPad do offer a true computing experience.
'Any argument that a pad is not a PC is simply out of sync,' said Chiam. 'With screen sizes of seven inches or above, ample processing power, and a growing number of applications, pads offer a computing experience comparable to netbooks. They compete for the same customers and will happily coexist. As with smart phones, some users will require a physical keyboard, while others will do without.'
'Each new product category typically causes a significant shift in market shares,' said Chiam. 'Apple is benefiting from pads, just as Acer, Samsung and Asus previously did with netbooks. The PC industry has always evolved this way, starting when Toshiba and Compaq rode high on the original notebook wave.'
Several reports showed Apple claiming third place in the global mobile computing market in earlier quarters, but the new Canalys report appears to be the first showing Apple attaining the position in the overall (notebook/desktop/server) market.