Production of New Thunderbolt-Equipped MacBook Airs Set for Next Month?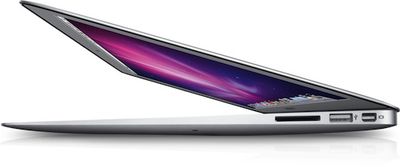 AppleInsider reports
on a new research note from Concord Securities analyst Ming-Chi Kuo claiming that Apple is set to begin production on new Thunderbolt-equipped MacBook Air models late next month, setting the stage for an update to the company's popular ultra-thin notebooks.
Kuo tells AppleInsider that his latest round of checks with suppliers and system builders in the region reveals that MacBook Air shipments are set to rebound during the current calendar quarter, fueled by an upgrade to Intel's latest Sandy Bridge microprocessors, integrated Intel graphics, and the expected adoption of the new Thunderbolt high-speed I/O technology that made its debut on MacBook Pros earlier this year.
Specifically, he said the new models will "go to mass production in late May," which corroborates an earlier report that cited reliable sources as saying Apple would be ready to publicly announce and ship to consumers MacBook Airs with Sandy Bridge processors during following month of June.
A production ramp in late May would set the stage for a June launch for the new MacBook Airs, a timeframe that had been rumored several months ago.
While Apple's current MacBook Airs launched in October 2010 with a new 11.6-inch model joining the redesigned 13.3-inch model, they still rely upon aging Intel Core 2 Duo processors as Apple has struggled to find a suitable pairing of CPU and graphics performance in the wake of a dispute between Intel and NVIDIA over chipset production. But with new Sandy Bridge processors from Intel sporting improved graphics performance now available, Apple now has better options for its small form factor machines utilizing integrated graphics.
Kuo notably revealed Apple's plans for an 11.6-inch MacBook Air a full three months before the product debuted last year.