Intel Launching Next Generation MacBook Air Processors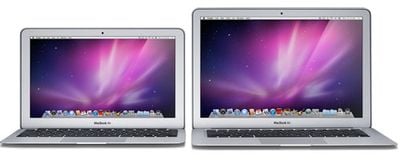 As reported by
Fudzilla
and
HardMac
, Intel is about to launch its next generation Sandy Bridge ultra low voltage CPUs suitable for the MacBook Air.
Due to the MacBook Air's thin form factor, it has required the use of particularly low power CPUs from Intel. Apple has stuck with Core 2 Duo processors with a maximum Thermal Design Power (TDP) of 10-17W. Apple is believed to have continued to use this older processor design in order to keep NVIDIA's graphics chips powering their ultracompact notebook. Due to licensing disputes, NVIDIA was prohibited from building newer chipsets that supported Intel's newest processors.
With the release of Sandy Bridge, Intel upgraded the performance of their integrated graphics chipset. This was good enough for Apple to offer in their latest 13" MacBook Pros, so we expect it will be good enough for the upcoming MacBook Airs as well. Apple had been previously rumored to be introducing the "Sandy Bridge" MacBook Airs this June.
HardMac pinpoints the Core i5 2537M (17W) as the possible chip to be used, at least in the 13" model:
Fortunately, Intel has low consumption processors, well for now, one processor, the Core i5 2537M. It is clocked at 1.4 GHz and features an impressive turbo mode reaching 2.3 GHz. It would be a huge gap with the power currently offered in the MacBook Air, even in the 13" model. Plus the bus is now 1333 MHZ, while it is only 800 MHz currently.
Meanwhile, the current 11" MacBook air uses an even lower power (10W) processor, but it's not clear how much power savings is offered by removing the need for the NVIDIA graphics chipset, as the Intel solution is integrated within the processor itself.