MacBook Air 'Sandy Bridge' Update in June?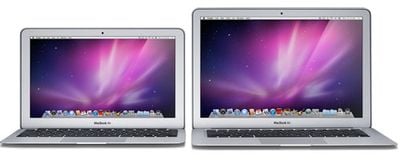 CNet reports
that Apple will be updating the MacBook Air this June with Intel's new Sandy Bridge processors.
The MacBook Air refresh is expected in June, according to a source familiar with Apple's plans.
Sandy Bridge is the latest processor from Intel and would represent a significant upgrade for Apple's MacBook Air. The MacBook Air has been a generation behind in terms of Intel's processors.
It's believed that Apple chose to stick with Intel's Core 2 Duo processor in the MacBook Air because they could pair it with the more powerful NVIDIA integrated graphics chip rather than Intel's less powerful solution. With Sandy Bridge, however, Intel has upgraded their integrated graphics hardware performance to be more on par with NVIDIA's. CNet believes that the expected MacBook Pro updates may come earlier and are not necessarily tied with the MacBook Air revision.