Apple Announces New 13.3-Inch and 11.6-Inch MacBook Air Models with Flash Storage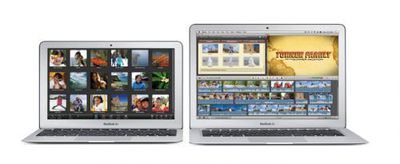 At the close of Apple's Back to the Mac event today, Steve Jobs
announced
two new MacBook Air models feature 13.3-inch and 11.6-inch displays.
As rumored, the new MacBook Air models do not have traditional hard drives, featuring only flash storage. Both models have Core 2 Duo processors, 2 GB of RAM, and NVIDIA GeForce 320M graphics cards. The new MacBook Air models have unibody chassis like the latest MacBook Pro models, full keyboards, stereo speakers, FaceTime cameras and glass multi-touch trackpads. Both models can have their RAM upgraded to 4GB from Apple's online store.
Battery life is claimed to be 7 hours for wireless web browsing on the 13.3-inch model and 5 hours on the 11.6-inch model, with a standby time of 30 days for both sizes
Both new MacBook Air models have high-resolution LED-backlit displays, with the 13.3 inch-model offering 1440 x 900 pixels and the 11.6-inch model carrying 1366 x 768 pixels.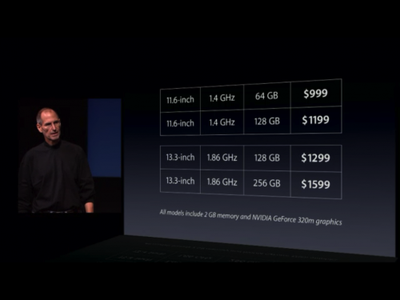 Pricing begins at $999 for the 11.6-inch MacBook Air with 64 GB of storage and goes up to $1,599 for the 13.3-inch model with 256 GB of storage. Both MacBook Air models are available starting today.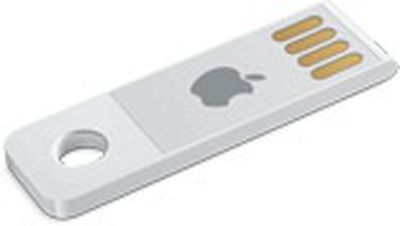 MacBook Air Software Reinstall Drive
With the new MacBook Air lacking an internal optical drive, Apple has included a
"Software Reinstall Drive"
USB stick carrying a unique Apple design to be used to restore Mac OS X and iLife. iWork is also included on the drive if the machine has been custom-configured to include the software. As it did with the original MacBook Air, Apple is continuing to offer an external MacBook Air Superdrive, now priced at $79. The MacBook Air can also wirelessly take advantage of the optical drive on a nearby Mac or PC for software installation purposes.