Apple Exploring E-Ink/Video Hybrid Displays for iPhone?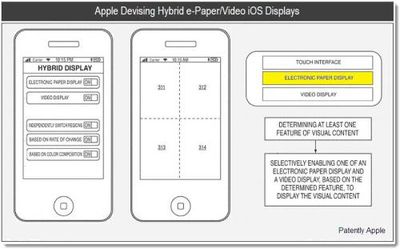 The other interesting patent application coming out of Apple yesterday was one of a
hybrid e-Paper/Video iOS display
.
Apple's second patent surprise of the day is all about Apple devising a next generation iPhone that would effectively offer us a smart hybrid display that could switch between a standard LCD and an e-Paper display. In fact, it's so smart that the display could actually subdivide itself into quadrants that could intelligently switch display types depending on the content that the user is running.
E-Ink displays have been popular on early eReaders such as the Amazon Kindle. E-Ink displays are unbacklit high resolution displays that offer superior readability in direct sunlight. Amazon even ran TV ads promoting this feature over Apple's iPad. Fans of e-Ink also claim the displays are less fatiguing on the eyes over long periods of reading.
Apple's new research into a hybrid e-Ink/Video display is reminiscent of technology from 3Qi who also offers a dual-mode LCD screen that offers both reflective e-ink as well as a the traditional emissive video mode.