3Qi Screen Technology Shipping in Time for Apple Tablet?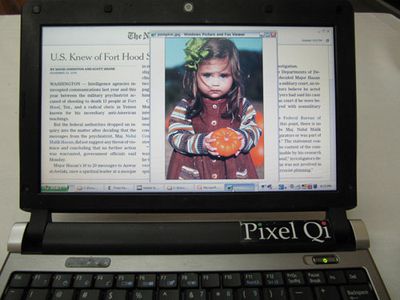 A small startup company called
Pixel Qi
recently
announced
that they will start production of the first batch of their new LCD screens shortly. These new screens promise low power, easy readability in direct sunlight as well as support for full color and are expected to ship in quantity in Q1 2010. Regarding the screen's benefits:
The readability and legibility of our new screens rival the best epaper available today. What's new about our screens: fast video rate update (refresh), and fully saturated color at low pricing because we use standard manufacturing materials, processes and factories. Our screens use 1/2 to 1/4 the power of a regular LCD screen, and when integrated carefully with the device can increase battery life between charges by 5-fold. You can use our screens in laptops outside in bright sunlight.
Pixel Qi has been closely followed by the industry, as it was founded by One Laptop Per Child's (OLPC) former Chief Technology Officer Mary Lou Jepsen.
Techland.com had spent some time with a prototype screen back in May and were quite impressed. The screen offers two modes: a black and white "reflective" mode similar to e-ink and a more traditional emissive mode that offers full color. Unlike e-ink, however, the black and white mode is capable of full-motion video.

Over the past year
, Jepsen has revealed that they have been in
contact
with "all the big laptop companies" and have seen a lot of interest. While there is no specific connection with Apple, it seems clear that Apple must be aware of this coming technology for their rumored tablet device. The readability and battery life savings would, of course, benefit any portable device, but especially one that has been
rumored
to publish magazine content and take on existing e-readers. Conveniently, the 3Qi screens are also
multi-touch capable
and can be "super-slim". The size of the screen has also been announced at 10.1 inches, which
matches with some of the predictions
for the Apple tablet's screen size.
Pixel Qi has revealed their screens will be going into specialized tablet devices with multi-touch in 2010, but has not yet announced specific partners.