White iPhone 4 to Ship Early Next Month?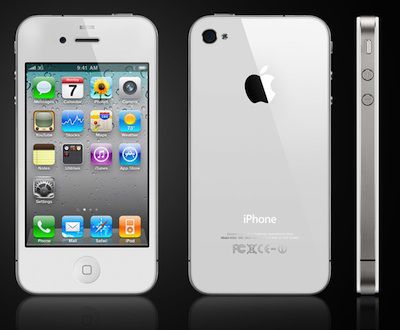 AppleInsider reports
on comments from Concord Securities analyst Ming-Chi Kuo claiming that Apple's manufacturing partners will finally begin ramping up production of the white iPhone sometime this month, with a launch expected to occur in early April. According to the report, sources have limited their information to the GSM version of the iPhone 4, with no information available on whether the CDMA iPhone now available on Verizon in the United States will also see a white version.
Apple is expected to begin production of its long-awaited iPhone 4 sometime this month, with shipments no later than early April, according to one analyst's checks.
Manufacturers will initiate production of the GSM-based iPhone 4 version in white enclosures and begin dispatching them to Apple ahead of general availability planned for next month, Concord Securities Analyst Ming-Chi Kuo told AppleInsider. Apple has made changes the "film material to solve the full-lamination problem that [was] the reason why white iPhones [were] delayed," he added.
Originally announced alongside the black iPhone 4 in June 2010, the white iPhone 4 was quickly pushed back to a late July release. As that date approached, Apple again announced a delay to later in the year before moving in October to push the launch back once more to "spring" 2011.
Despite claims immediately following the October delay that Apple planned to cancel the white iPhone 4 entirely, hints of the white iPhone 4 began appearing earlier this year at Best Buy and AT&T. Those appearances almost certainly occurred, however, as retailers made changes based on Apple's previously-announced timeline rather than on any actual availability.
Apple has remained quiet regarding the white iPhone 4 in recent months, although Steve Jobs did make it a point to note at the iPad 2 introduction last week that the white version of Apple's popular tablet will in fact ship at the same time as the black version later this week.
Word of an early April launch for the white iPhone 4 comes just as a rumor of an iOS-focused media event surfaces for around the same time. If that rumor proves accurate, the event could provide an opportunity for Apple to announce the white iPhone 4 launch if it chooses not to simply release the device quietly on its website at some point.