White iPhone 4 Appears in Best Buy Inventory System With February 27th Launch Date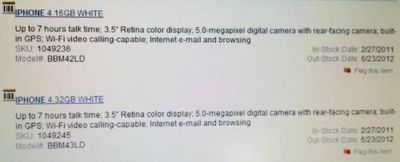 We've received information today from a source sharing the above screenshot claimed to be from a Best Buy inventory database showing both 16 GB and 32 GB white iPhone 4 models listed with expected in-stock dates of February 27th. The SKU and model numbers associated with the entries are identical to those previously used by Best Buy when it was taking pre-orders for the white iPhone 4 prior to last summer's launch, pre-orders that were canceled when Apple delayed availability of the white versions.
The discovery comes as Engadget notes that the white iPhone 4 has similarly showed up in the inventory system of Vodafone Germany. That report's source also indicated that a launch is expected "soon".
It is unknown whether these outlets have actual information on an upcoming release of the white iPhone 4 models or if they are simply preparing their internal systems in anticipation of Apple's most recent claims of a "spring" release for the long-delayed white versions. February 27th is a Sunday, which would be an odd choice for an Apple product release, as the company typically targets its launches of highly-anticipated products for Thursdays or Fridays in order to generate high-volume sales over the launch weekends.
The potential impact of a white iPhone 4 has likely lessened as the months have gone by, with customers who had been interested in the white version in many cases having moved on to second-choice handsets and consumers already looking forward to the expected release of a fifth-generation iPhone in the middle of the year. Rumors surfacing just after Apple's October announcement of the latest delay in availability had even suggested that the company has no intention of releasing the white iPhone 4 and will simply announce another delay sometime early this year that will lead into the release of the fifth-generation devices.