White iPhone 4 Option Appears in AT&T's Online Account Management System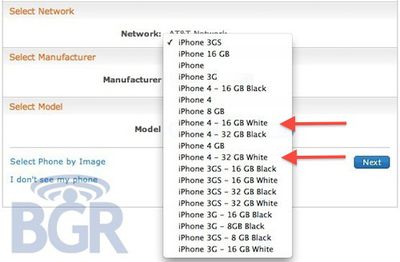 Following
our report
last week about the white iPhone 4 appearing in an internal Best Buy inventory database with a February 27th release date and similar reports of listing sightings with Vodafone Germany,
BGR now notes
that the white iPhone 4 has appeared as an option for users managing their AT&T accounts online. The option appears in a section of the site where users can specify their current phone if the one automatically generated by AT&T's systems is incorrect.
AT&T is now showing two versions of Apple's unicorn-colored iPhone. The entries appear in AT&T's Online Account Management system (OLAM), and read as "iPhone 4 - 16GB White" and "iPhone 4 - 32GB White." While the carrier's online account tool obviously wouldn't include any indication as far as when we might expect white iPhone 4 models to hit the store shelves, it's looking like late February or early March at this point.
While we have been unable to confirm that these options are indeed new, we have verified that they are present on AT&T's site. Also unknown is whether the growing number of listings are based on actual information on the device's availability being provided by Apple or if the carriers and retailers are simply preparing their systems for a potential launch based on Apple's most recent public claims of "spring" availability.