iPhone 5 to Use a 4-Inch Screen?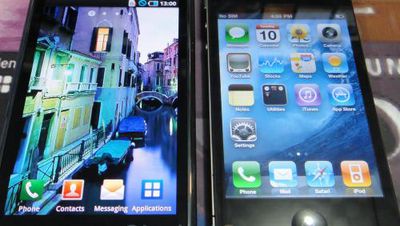 Samsung Galaxy S (4-inch screen) vs iPhone 4 (3.5-inch screen) via
Emoiz
Rumors are flowing fast for the next generation iPhones.
Digitimes
is now claiming that the next generation iPhone will use a 4-inch screen to better compete with Google Android.
The component suppliers noted that the production lines for Apple's next generation iPhone have begun testing, and Apple is interesting in expanding the screen size to 4-inches to support the tablet PC market as the vendor only has a 9.7-inch iPad in the market.
The news is interesting given the recent rumors of a smaller iPhone as well. The iPhone has always used a 3.5-inch screen since its launch, while several Android phones have launched at larger screen sizes.
Digitimes has a bit of an on-again off-again reliability with Apple-related rumors. They have certainly made some legitimate predictions, but has also detailed 7-inch iPad and 22-inch touch-screen iMac. It's believed that Apple prototypes several different designs for testing purposes but may also be the source of the some the false rumors we've seen in the past.