Live Coverage of Verizon's Media Event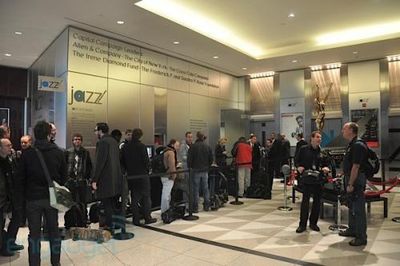 Verizon today is holding a media event where it is widely expected to announce that it will begin offering the iPhone, marking the end of AT&T's exclusive distribution for the device in the United States.
The event is scheduled to kick off at Lincoln Center in New York City at 11:00 AM Eastern Time, or a little under 30 minutes from now. Verizon does not appear to be providing live video or audio coverage of the event, and thus observers will have to rely primarily on text and photo updates coming out of the event.
Live Web/Twitter Coverage
- Engadget
- MobileCrunch
- Ars Technica
- The Loop
- BGR
- MacRumors Twitter updates
We'll also be providing event updates here in this article.
Recent News and Rumors
- Verizon Media Event Today, iPhone Expected
- Verizon Expresses Confidence in Network Capacity as AT&T Preps for Competition
- Verizon iPhone to Ship in A Few Weeks with Unlimited Data Plans?
Event Updates
- The Daily Show's John Oliver is on hand, with cameraman apparently in tow.
- Media has been admitted to the venue and attendees are getting seated. Venue has a small stage with a screen showing Verizon's logo and the company's "Rule The Air" marketing logo.
- We're getting underway. Verizon's Lowell McAdam is on-stage.
- Setting context with CES and the convergence of data, broadband, and video. "Today two innovators are coming together."
- Talking about FiOS, new 4G LTE network rolling out. "We debated calling this 6G" - responding to other carriers such as AT&T rebranding their HSPA+ service as "4G".
- "Today we're partnering with a giant of the industry, and that's Apple."
- Started talking about bringing the iPhone to a CDMA network in 2008. Tested for a year.
- Today announcing that the iPhone 4 will be available on Verizon early next month.
- Thanking Apple's senior team...pleasure working together.
- Apple COO Tim Cook on-stage. Highlighting success of iPhone, very excited to bring it to Verizon.

- Has all the features you expect: FaceTime, Retina display, 5-megapixel camera with HD video, custom A4 chip, etc.
- Verizon's Dan Mead on stage to talk about launch details.
- Verizon employees getting the iPhone this week. Ramping unprecedented supply in inventory system.
- Talking about network preparations...have been building in capacity to handle the coming surge.
- Current Verizon customers can pre-order beginning February 3rd. Available to all at Verizon and Apple stores on February 10th.
- Pricing is $199 for 16 GB, $299 for 32 GB. Can also act as Wi-Fi hotspot for up to five devices.
- End of presentation. Cook and Mead now taking questions.
Q&A
Q: How many do you plan to make in the first quarter or year?
A: Cook: I'm not going to get into our forecast. But it's a tremendous opportunity.
Q: Will it be on a yearly refresh cycle?
A: Cook: No comment.
Q: Why no LTE?
A: Cook: Two reasons - First, LTE chipsets force design changes we couldn't make in the iPhone 4. Second, Verizon customers said they want the iPhone now.
Q: Is the CDMA version exclusive to Verizon?
A: Cook: It's a multi-year deal, but non-exclusive.
Q: Did you change the antenna?
A: Cook: We've optimized things to work on CDMA, but I'm not commenting on anything beyond that.
Q: Simultaneous voice and data?
A: Mead: "It's consistent with other CDMA devices now", meaning no.
Q: Any new capabilities compared to GSM version?
A: Hotspot is new.
Q: When will we see LTE version?
A: No comment.
Q: Coming to indirect sales channels?
A: Yes, but not at first...Verizon and Apple only at first.
Q: More questions about lack of simultaneous voice and data and whether that will be disappointment for users.
A: Cook: It's all about getting it on Verizon. The customers who want it there will be willing to make the trade-off.
- End of event. Demo units provided for attendees to test out.