The Beatles Appear in iTunes Store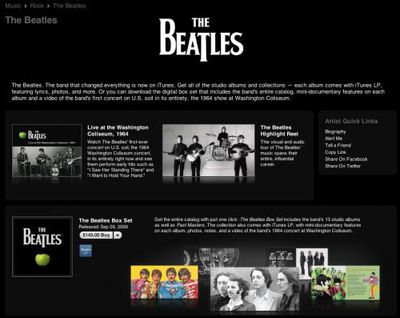 Ahead of Apple's planned
announcement
scheduled for about half an hour from now that has been
expected
to see content from The Beatles finally come to the iTunes Store, that content has already gone live. The offerings are headed by
The Beatles Box Set
, offering a total of 256 songs and other items, including iTunes LP mini-documentary features and a video of the band's first U.S. concert, all for $149.00.
Individual albums featuring enhanced iTunes LP content are also available, with the majority of them priced at $12.99 and a few others including "The White Album" and several greatest hits collections available for $19.99. Songs are generally also available on a per-track basis priced at $1.29 each.
Update: Apple has now updated its homepage to reflect availability of The Beatles' catalog on iTunes, and issued a press release about the release.
Apple Corps, EMI and Apple today announced that the Beatles, the most influential and beloved rock band in music history, are now available for the first time on the iTunes Store (www.itunes.com). Starting today, the group's 13 legendary remastered studio albums with iTunes LPs, the two-volume "Past Masters" compilation and the classic "Red" and "Blue" collections are available for purchase and download on iTunes worldwide as either albums or individual songs. Fans can also get a special digital "Beatles Box Set" featuring the "Live at the Washington Coliseum, 1964" concert film, a worldwide iTunes exclusive which captures the Beatles' very first US concert.
Apple has also posted a dedicated page on its site highlighting The Beatles and offering video streams of new ads promoting the release and footage of the Washington Coliseum concert.


Update 2
: According to
All Things Digital
, Apple has
exclusivity
on digital distribution of The Beatles' catalog "into 2011".