More Speculation for Tomorrow: Beatles on iTunes [Updated]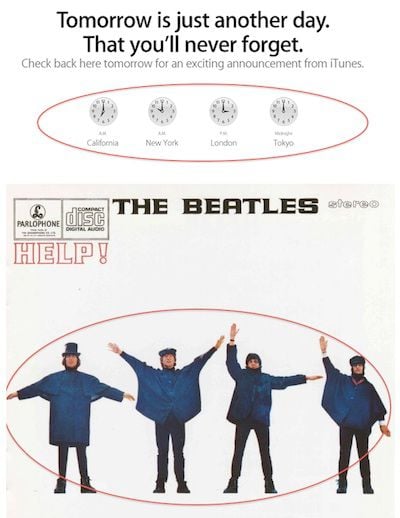 Graphic from TechCrunch
The big news of the day has been Apple's
iTunes-related announcement
scheduled for tomorrow, and one of the rumors that has been gaining traction in the hours since the news broke is that Apple may finally have
struck a deal
to bring The Beatles to the iTunes Store.
For starters, the sources in the past that quashed any rumors of an impending Beatles launch are today very quiet, and strangely so. Next is the wording of the teaser on Apple's website. The first line is, "Tomorrow is just another day." As noted earlier, "Another Day" is a Paul McCartney song released on his solo record "Ram," but written during the Beatles' "Let it Be" sessions.
Also, for those into hunting for more clues, Apple's teaser page features four clocks, each with the arms in different positions, (denoting the time of the announcement in California, New York, London and Tokyo time zones). Pretty unnecessary unless you compare it to the cover of the Beatles' "Help!" album, featuring all four members side by side with their arms also in different positions.
The report from Billboard hints at other reasons may finally be the day that The Beatles come to iTunes, although it is unable to share all of its information.
The rumor of course leads some to question whether such an announcement would be worthy of a hype-filled front-page teaser on Apple.com, but there is no special media event accompanying tomorrow's announcement, and it is unclear if any other news besides The Beatles would be included if it is indeed in the works.
On one final note, MacRumors yesterday did receive an unconfirmed tip that The Beatles would be coming to the iTunes Store on Wednesday, November 17th. Such unconfirmed rumors are not uncommon (although things have been relatively quiet with regards to The Beatles since the lead-up to Apple's September 1st music-focused media event) and this one included no details we could use to follow-up or verify, but perhaps is worth noting in light of today's events.
Update: The Wall Street Journal and The New York Times are now confirming that Apple has in fact finally struck a deal with The Beatles and their rights owners and is preparing to announce that The Beatles' music will soon be available in the iTunes Store.