Apple Teases 'Exciting' iTunes Announcement Tomorrow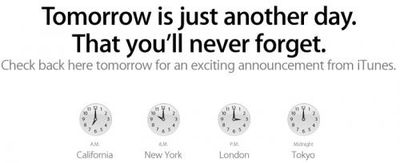 Apple today updated its
homepage
with an announcement teasing a major iTunes-related announcement to be made tomorrow at 10:00 AM Eastern time.
Tomorrow is just another day.
That you'll never forget.
Check back here tomorrow for an exciting announcement from iTunes.
There have been no specific hints as to what the announcement might entail, but Apple has of course long been rumored to be moving to a cloud-based iTunes where users' music would be stored on Apple's servers and streamed to a variety of Internet-connected devices. Apple has also been rumored to be working on a subscription-based music service that would complement the existing pay-per-download service.
Either of those services could be supported by Apple's massive new data center in North Carolina that is set to go online by the end of the year.