Apple Reportedly Working on iTunes Music Subscription Service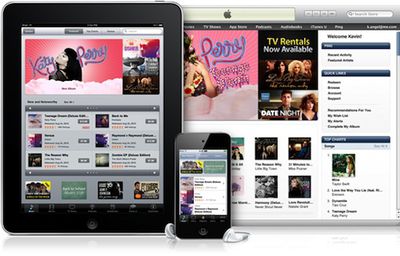 Just as Apple has been reported to be seeking to
block
streaming music firm Spotify from entering the United States,
The New York Post claims
that the company is negotiating with music labels to offer a subscription-based music service. A subscription service would offer users unlimited access to music for a monthly fee, as opposed of the pay-per-track model the iTunes Store has utilized since its inception.
Apple iTunes boss Eddy Cue was on the phone with music honchos as recently as a few weeks ago trying to figure out how the partners can move forward.
One source said the service could have tiered pricing ranging from $10 to $15, although there are issues to be ironed out, including how much music would be included in each tier and how long consumers would be able to access that content.
According to the report, music labels appear to be receptive to the idea, hoping that the offering would re-energize the stagnating digital music segment.
While rumors of a subscription service have floated around since the iTunes Store's launch, Apple has consistently taken the position that it has no plans to offer such a model because consumers have not expressed much interest it, although the company has never ruled out the possibility of changing of its mind.
Apple has also been rumored for some time to be talking with record labels about offering a cloud-based service that would permit users to store their purchased iTunes content on Apple's servers and stream it to a variety of Internet-connected devices, although the company has been said to be scaling back its near-term plans for that offering. With the proliferation of iOS-based mobile devices from Apple, customers appear to be increasingly interested in cloud-based services as an alternative to manually syncing content across their devices.