Apple Trying to Torpedo Spotify's U.S. Launch?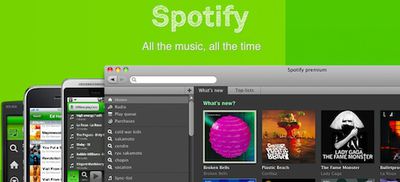 CNET reports
that popular Swedish music streaming service
Spotify
, which is struggling to line up deals to allow it to launch its free service in the United States, is being targeted by Apple in an attempt to keep music labels from signing on with Spotify. Apple is reportedly arguing to the labels that Spotify's free service would undermine the existing digital music business in the U.S., an industry that is dominated by Apple's iTunes Store.
In meetings in Los Angeles recently, Apple executives told their music industry counterparts that they had serious doubts about whether Spotify's business model could ever generate significant revenues or profits, according to two sources with knowledge of the discussions.
But Apple executives worried about the effects of a free music service might have on the rest of the market. They noted that it's tough to sell something that someone else is giving away, the sources said. One industry insider said it is only logical that if Spotify were allowed to launch a free-music service here, at a time when Nielsen recently reported that the growth of digital sales has flattened out, it could eat into the businesses of proven revenue-producers like Apple and Amazon.
Spotify has already missed two target dates for launching its service in the U.S., and reportedly has yet to reach agreements with any major U.S. labels as it seeks to meet yet another launch target set for the end of the year.
Spotify is only available in seven European countries at the moment, including the UK, France, and Spain, but its expansion to the U.S. has been highly-anticipated for quite some time. The company released an iPhone application last year to allow users to stream music via Wi-Fi or 3G, although the application is obviously only available in countries where the service is offered.