Apple and FutureTap Resolve Questions Over Travel Patent Application
Last week, we reported on a controversy sparked by Apple's inclusion of a screenshot of a third-party developer's app interface in a patent application published late last month. While we noted at the time that the screenshot was used by Apple as interface example for taking advantage of Apple's suggested travel information service and that the company was not trying to patent anything specific to the pre-existing application, questions still remained about Apple's behavior in the matter.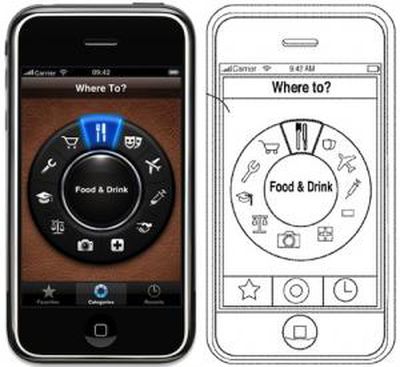 Where To? screenshot (left) and drawing from Apple patent application (right)
The third-party developer in question, FutureTap, has posted an
update
revealing that it has received an explanation from Apple regarding the screenshot usage. Following on discussions between Apple and FutureTap, Apple's patent attorney writes:
As discussed, Apple is contemplating steps to attribute the screenshot in the patent application to FutureTap. The patent application in question does not claim as inventive the pictured user interface nor the general concept of an integrated travel services application. We appreciate your taking time out to discuss the matter and will keep you updated.
FutureTap's Ortwin Gentz notes that the explanation is clearly satisfactory, and while acknowledging that ignorance of patent law was the source of much of the confusion on the part of himself and others, sees the positive aspect of Apple's inclusion of FutureTap's screenshot in its application.
We feel honored over this mention and appreciate that Apple is looking into a proper attribution of the screenshot. In retrospective, I can say we wouldn't ever have considered the story alarming had the screenshot included a short attribution notice.
In his defense, Gentz rhetorically asks with a sense of humor whether users would "prefer developers who love reading patents over the ones who love to design user interfaces". (In the interest of full disclosure, Where To? was initially designed by developers John Casasanta and Sophia Teutschler at tap tap tap.)