Controversy Over Apple Travel Patent Application
A bit of controversy has arisen over a patent application filed by Apple in December 2009 that was published by the U.S. Patent and Trademark Office last week. The patent application describes an integrated travel application for the iPhone offering users the ability to access a host of travel services, from airline bookings and check-ins to information on airport shops and social networking.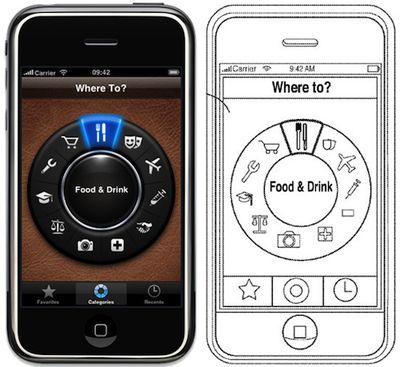 Where To? screenshot (left) and drawing from Apple patent application (right)
The controversy, which appears to have first been
noticed and publicized
by Rogue Amoeba developer Dan Wineman, involves a figure in the patent application showing a screen image that is essentially a direct copy of the interface found in the third-party application
Where To?
. While Apple's patent application was filed in December 2009 and claims association with a provisional patent application filed in January of that year,
Where To?
initially
went live
in July 2008 in the first wave of App Store apps.
Where To?
, initially developed by tap tap tap, was subsequently
sold
to FutureTap in late 2008.
While there were some initial questions over whether Apple was trying patent the inventions of third-party developers, an examination of the patent application reveals that Apple's ideas appear to be rather different that those utilized in Where To?, which is a GPS-based application for finding nearby businesses and other points of interest. Apple's application is focused on travel services, and while it can utilize GPS for positioning purposes, it is certainly not the main function of the application.
Consequently, it appears that Apple's designers and patent staff simply used the Where To? screenshot as an example of an interface a user might find when entering an airport, without claiming any invention of the interface's design itself or even the functionality behind it. But even if Apple is simply using the Where To? screenshot as an illustrative example to help describe a different technology, the move is not sitting well with the application's current developers.
At first, we couldn't believe what we saw and felt it can't be true that someone else is filing a patent including a 1:1 copy of our start screen. Things would be way easier of course if that "someone else" would be really an exterior "someone else". Unfortunately, that's not the case.
We're faced with a situation where we've to fear that our primary business partner is trying to "steal" our idea and design.
In an update to the post, FutureTap's Ortwin Gentz notes that he is not yet convinced that Apple isn't essentially describing his application's functionality in its patent application, but that even if it does not, the company's behavior still raises some questions. As one commenter notes, Apple's actions just don't feel right and leave the situation open to incorrect speculation and information.
The real problem, as I see it, is that no one thought to approach FutureTap, and let them know that they'd be doing so. I deal with patent applications a lot at work because they're often used as evidence in trials that I work on, and there's no way around the fact that they're hard to decipher. Bloggers are bound to read a lot into this, and a lot of the speculation is going to be based on a lack of information.
That's Apple's fault.
FutureTap notes that it became aware of the issue immediately after the patent application appeared last week, but that it held off from making a public statement as it attempted to contact Apple for clarification. With the issue being noticed by others and still no response from Apple, FutureTap is left to discuss its questions in public.