Next iPod Touch with Retina Display and Two Cameras?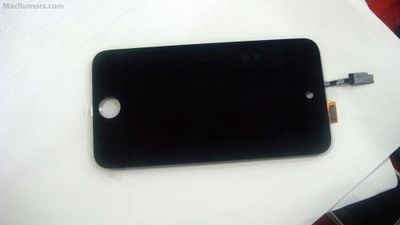 Daring Fireball's John Gruber hints
that Apple's next-generation iPod touch is set to be released in "a few weeks" and will carry a Retina display and two cameras. His note comes in response to Dell's announcement of its Streak mini-tablet with 5-inch screen set to launch on Friday priced at $300 with a two-year AT&T contract or $550 contract-free.
That's almost twice as much as a good iPod Touch, and if you wait a few weeks to buy the Touch, you'll get one with a Retina Display and dual cameras. If Dell can't make an iPod Touch competitor, who can?
Most observers have assumed that the next-generation iPod touch will gain the same high-resolution Retina display found in the iPhone 4, but its camera features have been the subject of some debate. Several leaks of claimed next-generation iPod touch parts seem to show a hole for front-facing camera to allow users to engage in FaceTime video calling, suggesting that the device will offer that functionality.
A rear-facing camera has been a bigger question mark for the next-generation iPod touch, with the depth of the rear-facing cameras found in the iPhone 4 (5-megapixel) and even the iPhone 3GS (3.2-megapixel) appearing too thick for the thinner and more tapered form factor of the existing iPod touch. The issue is not insurmountable, of course, as advances in camera sensor technology might allow Apple to squeeze in a thinner camera still offering the same resolution as the iPhone 3GS's camera, for example. Alternatively, design changes to the iPod touch, such as an elimination of the tapered edges as was done in the redesign for the iPhone 4 or even a general increase in thickness, would offer enough space for one of the thicker iPhone camera modules.
Leaked images of parts and prototypes are frequently a good indication of Apple's product plans, but as we saw last year with several prototypes of the now-current iPod touch carrying a rear-facing camera that was ultimately removed from the final design, we can never be 100% certain. Gruber's track record, however, is very strong and lends significant credence to the rumors that the next-generation iPod touch will gain both front-facing and rear-facing cameras in the next revision.
As for when that update may happen, Apple has traditionally held its iPod-focused media events in early September each year. One rumor has suggested that this year's event could occur as early as next week, although Apple has yet to issue invitations for any such event.