Apple Releases iOS 4.1 Beta 3 and Updated SDK to Developers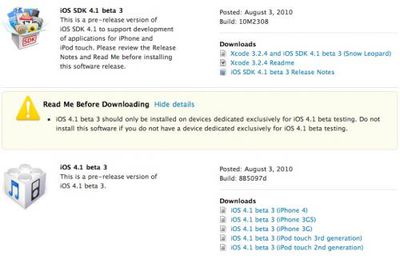 Just one week after the
last developer build
was seeded to developers, Apple has pushed out iOS 4.1 Beta 3 for testing. Apple has also released an updated software development kit (SDK) to provide developers with tools for building for the new beta version.
The release is a bit of a surprise, as Apple has typically stuck to a biweekly release cycle for its iOS developer builds. Consequently, it is possible that Apple is beginning to wind down work on iOS 4.1 to prepare it for public release. Alternatively, there could simply be some new changes that Apple wanted to get into developers' without waiting an additional week.
No details on the changes included in the latest beta have yet been revealed. Among the most highly anticipated iOS changes is one addressing a bug with the iPhone 4's proximity sensor, an issue that Apple CEO Steve Jobs promised would be fixed in a future software updates. There have been conflicting reports, however, as to whether earlier beta versions of iOS 4.1 address the problem.