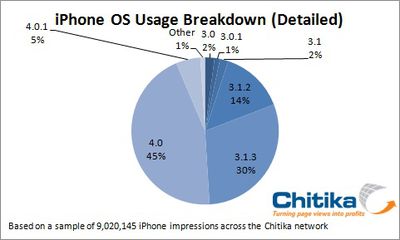 The research arm of mobile advertising and analytics firm Chitika yesterday
announced
that according to data pulled from the broad range of iPhone devices accessing its network, 50% of the ad impressions on the iPhone are now coming from devices running iOS 4.
Apple's latest mobile operating system, iOS 4, is already accounting for one-half of all iPhone web traffic, according to online advertising network Chitika. In looking at over 9 million iPhone impressions across its advertising network, Chitika found that iOS 4 edged iOS 3 by eight-tenths of a percent to be the dominant OS only one month after being officially released.
Only 5% of users, however, have updated to Apple's latest iOS 4.0.1, which was released on June 15th. But that statistic may be slightly misleading, as Chitika's Dan Ruby tells us that the data was collected from June 13th through 19th, meaning that iOS 4.0.1 was not even available for a portion of the survey period.
It is also important to note that not all iPhones are even capable of running iOS 4, with the original iPhone being completely unsupported and the iPhone 3G missing support for a number of key features such as multitasking, which reduces the incentive for those owners to update.