Apple Addresses iPhone Signal Strength Display With iOS 4.0.1 and iPad Wi-Fi Connectivity With iOS 3.2.1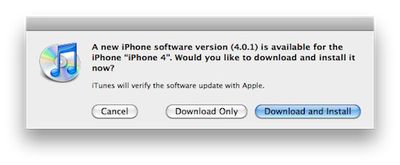 As
predicted
earlier today, Apple has released iOS 4.0.1 (8A306) for the iPhone 4, 3GS, and 3G. According to the release notes, the update addresses changes to the
signal strength indicators
as
promised
by Apple earlier this month.
- Improves the formula to determine how many bars of signal strength to display
Early reports on the signal strength indicator changes included in the iOS 4.1 beta released to developers yesterday suggest that the changes do not affect actual signal strength, but only adjust the visual "bar" indicators on the screen. Apple is holding a press conference tomorrow regarding the iPhone 4, and it is presumed that the company will be discussing the antenna issue at that event.
Apple has also released iOS 3.2.1 for iPad, addressing a number of issues including Wi-Fi connectivity issues as promised in an Apple support document posted several months ago:
- Improved Wi-Fi connectivity
- Fixed an issue that could prevent copy and paste of single-page PDF attachments in Mail
- Addressed an issue that could cause video playback to freeze
- Improved reliability of video-out when using iPad Dock Connector to VGA Adapter
- Added Bing as an option for Safari's search field