Other iPhone 4 Press Conference Notes: Over 3 Million Sold, White Models Coming, International Releases July 30th
While the big news out of Apple's iPhone 4 press conference was the announcement of free cases for customers and a positioning of antenna issues as affecting nearly all smartphones, there was additional news from Apple CEO Steve Jobs, including acknowledgment of proximity sensor issues with a fix promised for the next iOS software update. Jobs also made several other announcements which may be of interest to readers: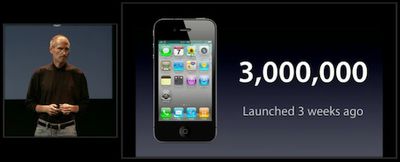 -
Over 3 Million iPhone 4s Sold
: Jobs announced early in his presentation that the iPhone 4 has sold over three million units since its
launch
in the U.S. and four other countries on June 24th.
The iPhone 4 is perhaps the best product we've ever made at Apple, and we have sold well over three million since we launched it three weeks ago. Just three weeks ago.
The company had previously announced sales of over 1.7 million units in the first three days of availability.
- White iPhone 4 Coming End of July: Jobs also announced that the white iPhone 4 will begin shipping in limited quantities by the end of this month, meeting earlier promises that they would become available in the second half of July.
A lot of people waiting for the white iPhone. We're going to start shipping it at the end of this month. And our quantities will be limited at first - we're ramping up as fast as we can. The white iPhones will start shipping at the end of July.

-
iPhone 4 to 17 New Countries on July 30th
: Apple had
announced
at the iPhone 4's official introduction in early June that the second batch of iPhone 4 launches would take place in 18 countries at the end of July. Jobs today announced that those countries, with the exception of South Korea, will see the iPhone 4 arrive on July 30th.
On July 30th, we are going to bring the iPhone to 17 more countries, and these are the same 17 we talked about before with the omission of just South Korea because it's going to take just a little bit longer to get government approval there.