Apple to Offer Free Cases for iPhone 4 Customers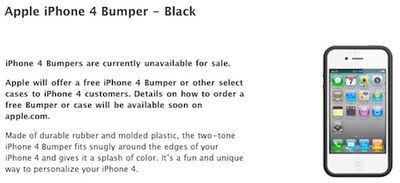 At its
iPhone 4 press conference
today, Apple CEO Steve Jobs announced the results of the company's investigation into complaints of signal problems on the new device. According to Jobs, the issue is being experienced by a very small proportion of customers but that the company wants every customer to be satisfied.
To that end, Jobs outlined three steps the company has taken:
- iOS 4.0.1 fixes the signal strength display issue by recalibrating the "bars" displayed, and all customers should apply the software update.
- Apple will provide all iPhone 4 customers who purchase their phones by September 30th a free case. Customers will be able to choose from Apple's own bumpers, as well as third-party cases sourced from other vendors. Customers who have already purchased a bumper can receive a refund. Apple's site will begin taking orders for the free cases beginning late next week, and the company will re-revaluate the case situation as it gets closer to the September deadline.
- Any customer who is still unhappy with their iPhone 4 can return it, provided it is undamaged, within 30 days of purchase with no restocking fee charged.
Jobs maintained throughout that the issue was one common to other mobile phones and according to their data, this affects a very small percentage of iPhone 4 owners.