CBS Testing iPad-Friendly HTML5 Video Delivery Methods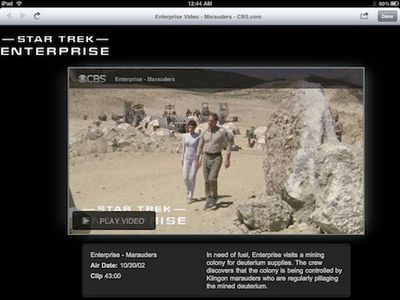 CBS is continuing to move forward with its plans to deliver streaming video of its television content in an iPad-friendly HTML5 format, eliminating the networks existing reliance on Adobe's Flash Player for serving content. In March, we
noted
that the company appeared to be preparing HTML5 versions of its streaming content, and CBS Interactive Senior Vice President Anthony Soohoo
confirmed
last month that the company plans to have its full CBS.com lineup available in HTML5 by the start of the fall television season.
mocoNews caught up with Soohoo recently and reports that CBS is currently engaged in testing its HTML5 delivery using episodes of Star Trek Enterprise as the network seeks to reach "parity" with Flash delivery methods.
"What you see right now is a small, little experiment," Soohoo explained, with Star Trek Enterprise as an "ideal" subject, in part because of its fan base and because CBS owns it. "We're currently just testing for the time being." CBSi plans to move towards HTML5 parity with Flash video but first Soohoo and his team need to find the right mix of tools. It's not hard to offer the video in both versions but it's far more complicated than that.
"Our goal is over time at some point having content parity. The tools aren't mature yet - security needs to be there, second thing we need is all the tracking and measurement. If we can't track, we can't monetize." Adobe Flash is still the way most CBSi users get their video; as important, it's how ads are served.
While stopping short of a commitment, Soohoo notes that CBS is currently leaning toward offering both browser-based video streaming and dedicated apps, choosing to "follow where the audiences are".
ABC made a splash with its early launch of a dedicated iPad application for its streaming content, and while CBS had initially appeared to be focusing on browser-based delivery, it now seems that the network will be taking a more fluid approach and remains open to multiple possibilities.
Not all networks and content providers are following ABC and CBS in jumping on the iPad/HTML5 bandwagon, however. A number of media companies, including NBC and Time Warner, have pledged their continued support for Flash streaming, pointing to the format's continued dominance on the Web and shortcomings in HTML5 feature offerings.