ABC iPad App Launch Seen as Successful Entry for Television Streaming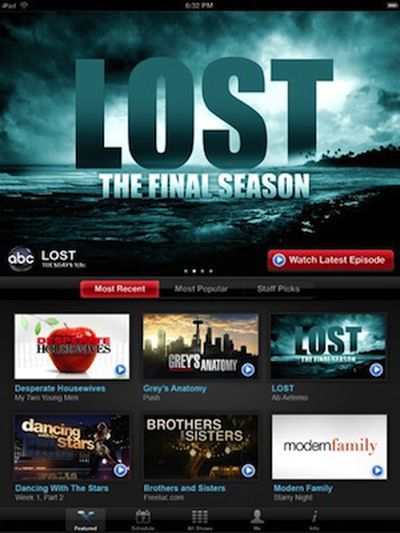 The Wall Street Journal takes a look
at
ABC's application
for the iPad ten days after the device's launch, revealing that users have streamed at least part of 650,000 television episodes in what the network deems a very successful launch.
The network said that in the 10 days since the iPad's debut, its TV-show watching app has been downloaded 205,000 times, giving the Walt Disney Co. unit a presence on nearly half the 450,000 devices that Apple says it has sold. Moreover, users have watched at least part of 650,000 television episodes using the app, generating "several million" ad impressions, according to an ABC spokesman, although the precise number is still being calculated.
The report notes that ABC has been offering on the iPad the same traditional 30-second ads from a host of advertisers that are seen by television audiences. By fall, however, ABC plans to roll out special interactive ads for users of its iPad application. Additional plans involve allowing local affiliates to offer targeted advertising to users based on their location.
Also provided in the report is an interesting look at the development of ABC's iPad application, which was undertaken by a team of twelve ABC engineers. Development is reported as having occurred "in the five weeks between the Jan. 27 announcement of the iPad and its commercial release on Saturday" despite that fact that that time interval was over nine weeks in length. And somewhat surprisingly given Apple CEO Steve Jobs' position as the largest individual shareholder of ABC parent company Disney, ABC's engineers were not provided with a pre-release iPad for development purposes and had to rely on the simulator included in Apple's development tools for the platform in order to build the application.
Application developers have been able to ride along with strong sales of the iPad, with Apple today announcing that strong U.S. sales of over 500,000 already have forced the company to push back international launch by one month to late May as it struggles to keep up with demand.