More UK iPhone 4 Details: Vodafone Pricing Leaked, Virgin Looking to Come On Board?
Just like in the United States, additional bits of information on UK availability for iPhone are beginning to trickle out. Earlier today, a test page on Vodafone's site, which now loads only occasionally in a partially completed state, appeared showing the company's rate plans for the new iPhone. Fortunately, Engadget grabbed some screenshots while it was active, revealing that the carrier will be offering a basic 1 GB cap for data access across all monthly plans, double that of O2's lower-end plans.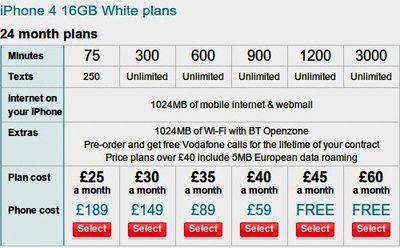 Like O2, Vodafone will be offering 18-month and 24-month contracts, with monthly prices checking in at a 5 premium for the shorter contract. All plans also include up to 1 GB of Wi-Fi data access on BT OpenZone networks. Phone costs begin at 189 (16 GB) and 280 (32 GB) on low-end plans, before dropping all the way down to free for 45/50 plans (16 GB) and 60/65 plans (32 GB).
In other UK news, Virgin Mobile has indicated that it is working to bring iPhone 4 to its network.
A Virgin Mobile spokesperson said: "We are in ongoing talks with Apple. There are no further developments at this point."
Virgin would join existing major UK networks O2, Orange and Vodafone, as well as T-Mobile and Three, which are coming on board with the iPhone 4 launch.