UK iPhone 4 Updates: O2 Axes Unlimited Data and Announces Upgrade Offer, T-Mobile and 3 On Board
Several bits of news regarding carriers for iPhone 4 in the UK have been surfacing recently, with the most notable one possibly being O2's announcement of new tariffs that no longer include unlimited data. Instead of offering unlimited data and texts across all monthly plans with call minutes being the primary differentiator, O2 is now tiering both call minutes and data across its plans.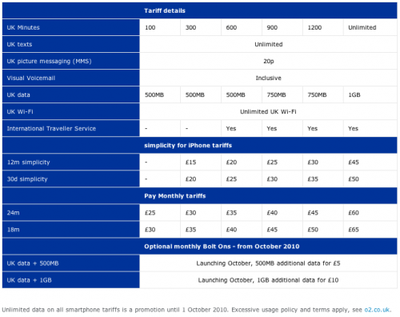 Monthly plans begin at 100 minutes and 500 MB of data priced at 25 for a 24-month contract and 30 for an 18-month contract and ramp up to unlimited calling and 1 GB of data priced at 60/65. A footnote to O2's pricing matrix indicates, however, that the carrier will continue running a "promotion" offering unlimited data for all smartphones until October, at which time the company will offer additional data in 500 MB (5) and 1 GB (10) buckets.
O2 has also announced its early upgrade policy for iPhone 4, allowing customers currently on a contract with the carrier to buy out their remaining terms at a rate of 20 per month left on their contracts, at which point customers will be eligible for new contracts at the lowest iPhone 4 prices. The early upgrade offer comes instead of the carrier's usual policy of requiring customers to pay off their contracts in full.
In other UK iPhone 4 news, both T-Mobile UK and Three UK will be offering the new iPhone, joining existing carriers O2, Orange, Vodafone, and Tesco, which operates on O2's network.