Next-Generation iPhone to Offer Option of White Front Panel? [Updated]
fscklog points to a posting on Taiwanese site Apple.pro showing photos of the front and back of a purported white next-generation iPhone front panel.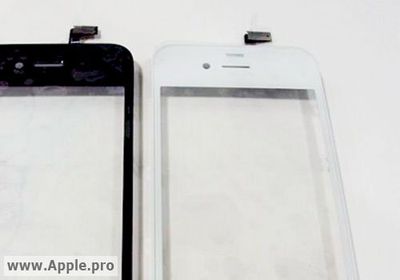 While very similar to the traditional black panel seen in some previous
parts leaks
and in
prototypes
that have surfaced in recent weeks, it does carry an unknown physical feature directly above the earpiece slot. The feature appears similar to a "reflective surface" seen in another
part leak
back in February.

Apple has offered a white back on its iPhone 3G and 3GS models, with the exception of the 8 GB 3G model. If today's purported images do in fact turn out to be authentic, it appears that Apple is looking to bring that style option around to the front with a more prominent presence.
Update: The photos have since been revealed to have originally come from Chinese e-commerce site Taobao.com and were cropped before being posted at Apple.pro.