Gartner Pegs Apple as World's Seventh Largest Mobile Phone Manufacturer
Gartner today published a report covering worldwide mobile phone sales to end users for the first quarter of 2010. The results show Apple placing seventh among all mobile phone manufacturers with 2.7% of the market, up from 1.5% in the year-ago quarter. The growth places Apple within striking range of Motorola, Sony Ericsson, and Research in Motion as it seeks to move up the list into the top five in the future.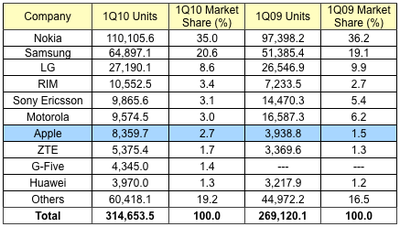 Worldwide Mobile Phone Sales in 1Q10 in Thousands of Units (Source: Gartner)
The first quarter of 2010 was Apple's strongest quarter yet, which placed the company in the No. 7 position with a 112.2 per cent increase in mobile devices sales. "Growth came partly from new communication service providers in established markets, such as the UK, and stronger sales in new markets such as China and South Korea," said Ms Milanesi. "The second quarter of 2010 will be a very important one for Apple. We expect that Apple will present its new iPhone in June during its Worldwide Developer Conference, which will be the first to feature the latest release of the iPhone OS that includes welcome improvements for developers and users, such as multitasking."
The report also examined the more limited smartphone market from an operating system standpoint, showing Apple's iPhone OS in third place behind Symbian and Research in Motion with 15.4% of the market, up from 10.5% year-over-year. The iPhone OS placed ahead of Google's surging Android, which held 9.6% of the market. That worldwide data contrasts with the United States, where a recent NPD study showed Android-based handsets outselling the iPhone.

Worldwide Smartphone Sales in 1Q10 in Thousands of Units (Source: Gartner)
Gartner's numbers are somewhat comparable to
overall
and
smartphone
numbers released by IDC in recent weeks. The data paints a slightly different picture of the earlier data, however, which saw Apple edging out Motorola in overall mobile phone sales to become the largest U.S.-based manufacturer.