Apple Maintains Third-Place Ranking Among Smartphone Vendors
Research firm IDC today released data on global smartphone ("converged mobile device") sales for the first quarter of 2010, showing Apple maintaining its third-place ranking behind Nokia and Research in Motion on very strong year-over-year growth. The overall picture remains nearly identical to last quarter, with most metrics moving only a tiny amount.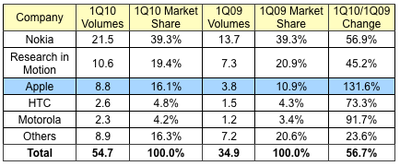 Worldwide Smartphone Shipments in 1Q10 in Millions of Units (Source: IDC)
On a year-over-year basis, Apple's shipments grew by 131.6% to 8.8 million, easily outpacing the overall industry growth of 56.7%. That performance now has Apple trailing Research in Motion for second place by only slightly over 3% in industry market share (19.4% vs. 16.1%). Nokia continues lead the pack with 39.3% of the market, more than twice the share of Research in Motion.
The report, which is a follow-up to the company's overall mobile phone report released last week, notes that smartphones represented 18.8% of all mobile phones shipped during the quarter, up from 14.4% in the year-ago quarter.